Part 1 of 2: Automating No Response claims, payment posting, and charge entry.
Artificial Intelligence (AI) has fast become a leading disruptor in the healthcare market and has entered the vernacular of most executives. AI is an umbrella term for a machine's ability to imitate a human's way of sensing things, making deductions and communicating. Although the market hasn't fully embedded natural language processing or machine learning algorithms into the daily workflow, AI's younger cousin, Robotic Process Automation (RPA), is emerging as a rising star.
While many industries such as financial services and retail have used Robotic Process Automation to improve operational efficiency, healthcare and revenue cycle management companies have been slow to adopt this technology.
Advantum is leading the healthcare industry in the use of RPA in revenue cycle management and medical credentialing verification processes. RPA automates repetitive, high-volume, rule-based processes to shorten cycle time, improve efficiency, reduce errors, and streamline operations. This transformative technology reduces the time needed to complete tasks and reduces labor costs.
Advantum's use of RPA eliminates human error in repetitive, rule-based tasks and allows personnel to be redeployed to focus on more complex, nonstandard tasks. BOTs (robots) used in RPA work 24/7, mimic the repetitive revenue cycle tasks traditionally done by staff and do so without errors. The speed at which BOTs perform allows tasks to be completed in a fraction of the time a staff member would devote to it.
The combination of leveraging Advantum's Revenue cycle services and RPA expertise can significantly reduce the cost of a full in-house revenue cycle solution while improving results.
RPAs digital workforce uses scripted processes to access structured and unstructured data repositories, APIs, websites, applications, and data sources in the same way its human counterpart does. The difference is that BOTs repeat the same processes but they don't forget their password and they remember how to navigate multiple systems and payer websites. BOTs increase the efficiency of aggregating information across multiple data sources and integrating third party tools without expensive interfaces.
Robotic Process Automation improved claims efficiency for our clients
The following example illustrates the power of RPA to check on a claim that's been filed to a payer, but no response has been received. Notice the comparison between the workflow used by a human and the workflow used by a robot.
No Response claims using AI-RPA
Advantum implemented bots to manage "no pay" or "no response" claims for key strategic clients. Using client-specific requirements for timing of the claim follow-up by payer, Advantum deployed bots to query and act on "no pay" or "no response" claims that automated detailed data retrieval and improved the organization of work for follow-up.
The processes automated by the bots include:
Download accounts receivable report from practice management system.
The bot filters the report/claims that meet certain criteria for age and no response.
Using the filtered list, the bot logs into payer portals and retrieves claim status for the specific claim.
The claim status is then updated to the Advantum internal Workflow and Analytics application database for A/R Specialists to take further action.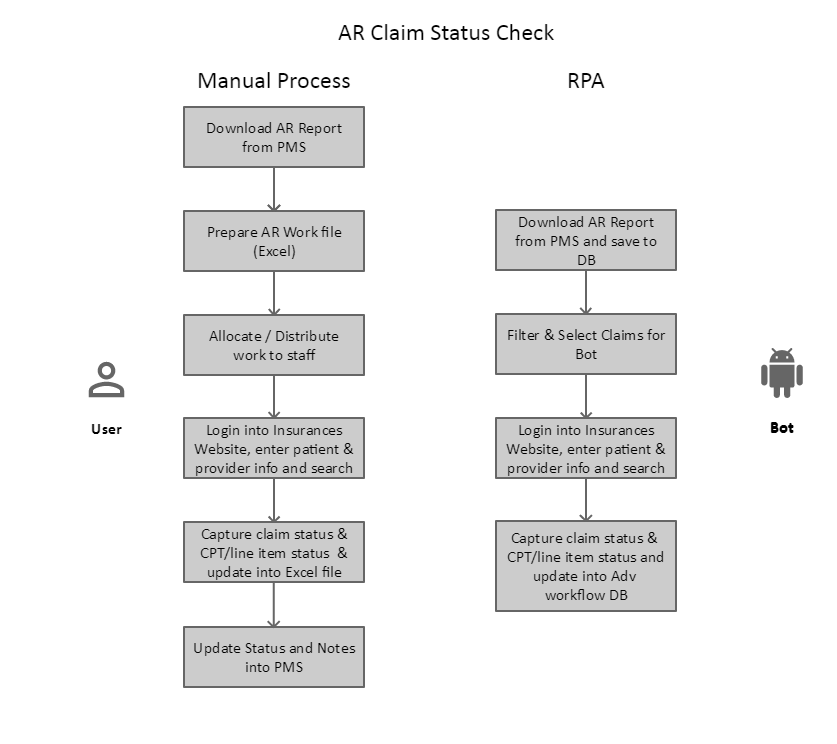 Payment posting using AI-RPA
Advantum Health improved the internal billing efficiencies for about 30 customers by deploying robots to manage the payment posting process. Due to the nuances of payment posting, Advantum Health uses "attended bots" to run scripts that automate repetitive tasks. This allows staff to focus on higher-value activities. Unlike unattended bots that complete tasks without human intervention, attended bots are triggered by staff members to carry out automated tasks as needed to increase productivity.
The processes automated by attended bots included:
Login to various clearinghouses and third-party payor websites to extract the ERA (Electronic Remittance Advice) information, download into the billing platform and parse information.
Open the downloaded ERA files and complete electronic posting.
After payment posting is complete, validate and check for errors.
Implemented for multiple Advantum teams on across multiple platforms.
Results:
Number of bots deployed: 3
Processing: Daily
ROI: 292%
Resulted in FTE savings of about 37%
Charge entry automation using AI-RPA
Advantum Health implemented automated charge entry to create efficiencies for coders and billers in the revenue cycle process. For practices and groups that still use paper superbills, automating the charge entry process creates staff efficiencies and reduces the error rate due to human data entry.
The processes automated by the bots included:
Bot downloaded the superbills.
Coders reviewed the superbills and entered procedures and diagnosis information into a proprietary application.
The bot took the data entered in the application and inserted it into practice management systems.
The coder/biller verified the data and submitted charges.
Results:
Improved productivity and turnaround time
Reduced the error rate for data entry
Improved efficiency with quality audits
FTE reduced by 40%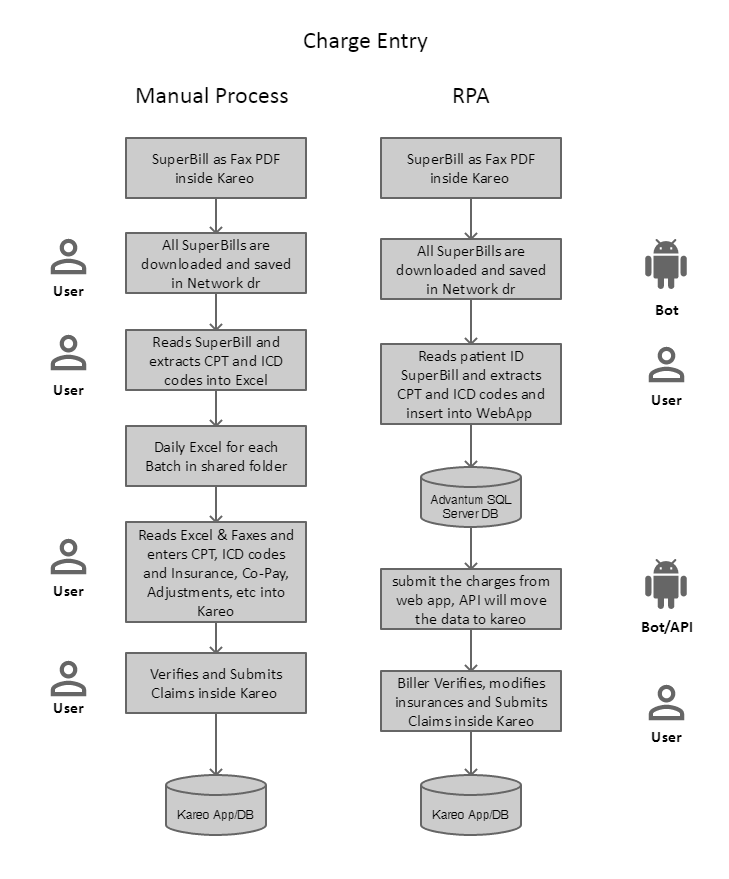 Leveraging RPA, Advantum reduced the time needed to obtain eligibility verification and benefit determination, process claims, obtain claims status, process payments, and manage denials. Using BOT technology, Advantum reduced the manual effort involved in checking the No-Response Claims by about 23%. Advantum was also able to relieve physicians of administrative burden by managing credentialing and provider enrollment tasks. Using BOTS, Advantum also managed Licensing and Sanction check, part of credentialing tasks, and achieved ROI of roughly 75%. This automation allows physician offices to focus on managing patient care rather than managing paperwork associated with billing for medical services provided to patients.
Bots are not a cure-all, but they are proving to be a treatment for the industry's poor efficiency symptoms. BOTs help reduce or eliminate much of the repetitious work and liberate the most valuable industry assets, human intelligence.
Advantum is excited to provide our customers access to revenue cycle solutions that include this industry-leading technology. We anticipate continuing to rollout RPA across additional processes in 2019 and expand machine learning technologies later this year.
Read Part 2, Automating RCM reporting with AI-RPA.